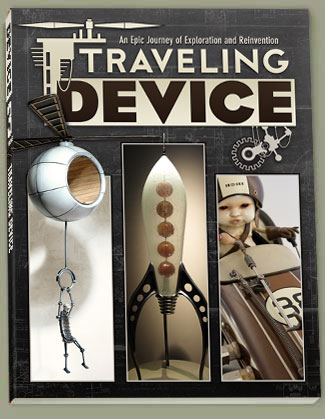 Device Volume III: TRAVELING DEVICE
"Strap on your leather flying cap, don your driving gloves, slip into your motorcycle boots and zip up your bomber jacket, it's time to take a trip on the Traveling Device."

From winged creatures to re-imagined automobiles and planes, the Traveling Device features over 150 extraordinary sculptures by 14 internationally acclaimed artists: Rik Allen, Greg Brotherton, Gérard Cambon, James Corbett, Kyle, Fokken, Nemo Gould, Dan Jones, Paul Loughridge, Michihiro Matsuoka, Pierre Matter, Monty Monty, Olivier Pauwels, Guillermo Rigattieri, Michael Ulman. Forward by Gareth Branwyn.
184 pages, 9" x 11", softcover book.
Preview Book
$24.00 plus shipping ($6 within the Continental U.S. / $16 to Canada / $24 Other Countries)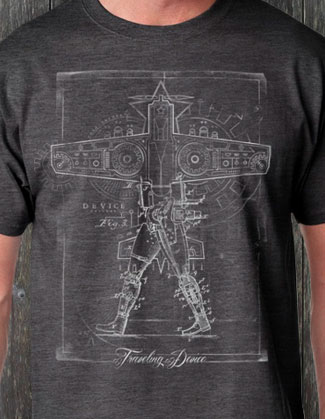 TRAVELING DEVICE
Limited Edition T-Shirt
It's a robot… it's a plane… it's a limited edition shirt designed by Greg Brotherton. Printed on charcoal heather grey pre-shrunk 100% ComfortSoft© cotton.
$22.00 plus shipping ($6 with in the Continental U.S./ $9 to Canada / $13 to Other Countries)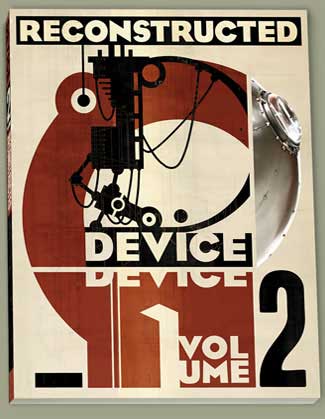 Device Volume II: RECONSTRUCTED
Featuring 16 internationally renowned sculptors whose compulsive craftsmanship, distinct vision and mechanical fascination makes for an imaginative and arresting collection of work.


Using popular culture imagery and objects to explore such themes as mythology, nature, inner fantasy and technology. Artists featured include Greg Brotherton, Steve Brudniak, Christopher Conte, Nemo Gould, Stéphane Halleux, Tom Haney, Kris Kuksi, Mike Libby, Paul Loughridge, Michihiro Matsuoka, Jeremy Mayer, Rich Muller, Olivier Pauwels, Andrew Smith, Lewis Tardy, and Jud Turner, with the forwarded written by Gareth Branwyn.
$24.00 (Sorry Sold Out)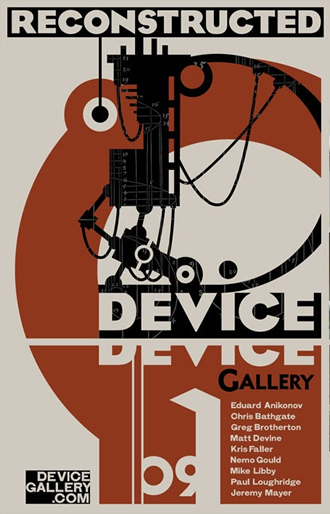 Reconstructed 2009 Exhibition Show Poster
Screen Print on fine art paper
$25.00 (plus shipping and handling)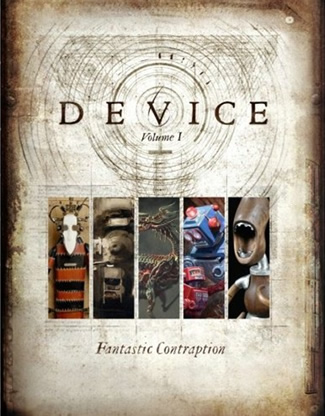 Device Volume I: Fantastic Contraption


Fantastic Contraption celebrates the genius of invention and ingenuity with a showcase of works from an international roster of artists including˜H.R. Giger, Ashley Wood, Stéphane Halleux, Eric Joyner, Wayner Martin Belger, Viktor Koen, Christopher Conte, Gregory Brotherton, Mike Libby, Nemo Gould, Kazuhiko Nakamura and many others. Forward by Gareth Branwyn.


$20.00 (Sorry Sold Out)